HERE FOR YOU WHEN DISASTER STRIKES!
Need to make a claim for a fire, flood, theft or other major disaster?
After a fire, please call Cherry and Griffiths. We take the pain out of the process by acting on your behalf in managing the entire claims process.
In the event of a natural disaster, as your insurance claims manager, we will take control of the situation by working to ensure efficient and timely processing of your claim for the best recovery of your assets.
As insurance experts, our insight in relevant technical and legal matters allows us to deal with every aspect of each claim on behalf of the policyholder, obtaining the best possible outcome.
Expert claims advice to help you get get maximum compensation when your home has been affected by burglary. Arranging the repair of any damage and replacing lost property.
Cherry and Griffiths Are Loss Assessors That Really Support You All The Way
Dealing with insurance companies has become time-consuming and frustrating and we can help your get your full claim entitlement with less fuss! You can be passed around from one person to the next, leaving you feeling that you have little control over the situation.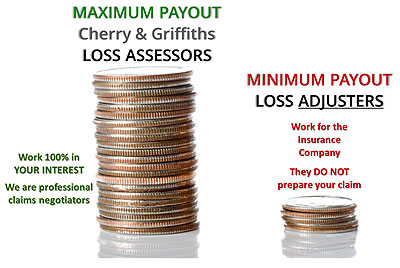 We're proud to be loss assessors who provide expert insurance claims advice and have helped a lot of clients in very difficult situations. In fact, well over 80% of our new instructions are the result of previous clients' recommending our loss assessor services!
Use Cherry and Griffiths As Your Loss Assessor and Get Trustworthy Insurance Claims Advice
You can never be too late to seek our expert insurance assessor advisory service. After visiting a prospective client, Cherry and Griffiths as claim consultants of repute, will always conduct a
zero obligation, free "no strings attached" claims advice and assessment
of their situation in order to provide solid actionable advice about how our skills could help in their position. Where ever you are located and whatever claims advice you may require, please call us to find out more about how leading claim assessors like Cherry and Griffiths can help you. We are authorised and regulated by the
Financial Conduct Authority
No. 502821
What's The Difference Between Loss Assessors and Loss Adjusters?
See our key personel at the following offices:
Loss Assessors Manchester
|
Loss Assessors Leeds & Bradford
Loss Assessors Lancashire
|
Loss Assessors Wigan & Bolton
Professional Credentials
Scope Of Insurance Claim Advice Services
Loss assessors, insurance assessor, loss assessor and insurance claims advice
Service description:
Loss assessors, insurance assessor, loss assessor and insurance claims advice services covering the whole UK.
What Clients Say
"

They work like a cocoon that just looks after you!

"

They take all the stress out of it ... 9 months later you'll have a brand new house!

"

I don't know what I would have done without Cherry & Griffiths & I got paid far more than I expected to be paid!